Witamy na stronie WNiG
Latest issue of Oil and Gas News:
Biogas and biomethane as green fuels of the future - real support for the share of energy from renewable sources
The article presents selected issues concerning the share of energy from renewable sources in Poland. The process of methane fermentation necessary to obtain biogas was presented, and after appropriate treatment, obtaining biomethane. Selected examples of biogas plants were quoted and the development of newly emerging biogas plants in Poland was determined. On the basis of the collected material, it was found that the biogas production technology has a great chance of development in Poland due to the significant resources of raw materials, the demand for energy in a distributed system and the need to meet the obligations regarding the production of energy from renewable sources. One of the important challenges related to biomethanation is the efficient use of the gas produced. The development of the biogas and biomethane production sector will in the coming time contribute to the diversification of energy sources and increasing Poland's energy security. What seems to be waste for agriculture can be an attractive raw material for the energy sector. It should be emphasized that biogas and biomethane will be an important element of the future energy and distributed energy strategy in Poland... dalej
Selected aspects of hydrogen transmission safety: monitoring and hydrogen explosion limits and its admixture with natural gas
In recent years, the increasing demand for alternative energy sources, as well as increasingly stringent requirements for reducing greenhouse gas emissions, have prompted consideration of the role of hydrogen as a potential energy carrier. Hydrogen can be used as a clean energy source as well as a green energy carrier from renewable sources. However, in order for hydrogen to become a widely used energy carrier, effective methods of its transport must be developed.
One of the possible ways of transporting hydrogen is pipeline transport. Transporting hydrogen by pipeline has several advantages, including the ability to transport large amounts of hydrogen over long distances, low transport costs compared to road or rail transport, and low environmental impact. Nevertheless, there are also some challenges related to the pipeline transport of hydrogen, including problems with safety, explosive limits and monitoring of quality parameters... dalej
Water shutoff treatments as way of improving gas exploitation economics
The paper presents the most important information on the diagnosis of causes and chemical solutions to the problem of excessive and uncontrolled inflow of formation water to gas and oil production wells. Data showing the costs incurred by oil and gas companies confirms the importance of the problem raised and the need to seek the most effective solution to it. The analysis of sources and the identification of the formation water inflow mechanism is the basic element for the selection of treatment fluids optimally adapted to the reservoir conditions. It was pointed out that currently it is desirable to use selective fluid, an example of which is, developed at the Oil and Gas Institute - National Research Institute, the Multizol series micellar treatment fluid... dalej
---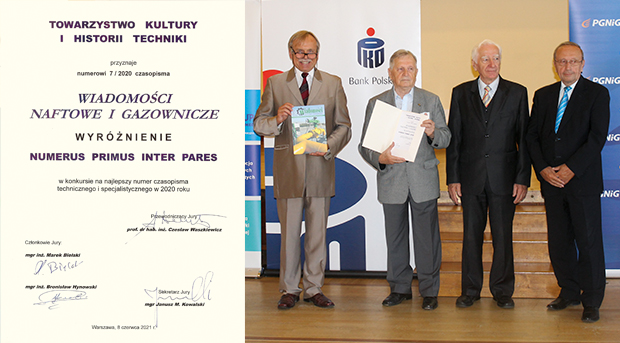 Od kilkudziesięciu lat, działające w ramach Federacji Stowarzyszeń Naukowo-Technicznych NOT Towarzystwo Kultury i Historii Techniki, jest organizatorem konkursu NUMERUS PRIMUS INTER PARES.
Z nieukrywaną satysfakcją (ale też z odrobiną miłego zaskoczenia) przyjęliśmy w Redakcji tegoroczny werdykt jury, obradującego pod kierunkiem prof. dr. hab. inż. Czesława Waszkiewicza – przyznającego numerowi 7/2020 Wiadomości Naftowych i Gazowniczych wyróżnienie NUMERUS PRIMUS INTER PARES na najlepszy numer czasopisma technicznego i specjalistycznego w 2020 roku.
Uroczyste wręczenie nagród i wyróżnień konkursu NUMERUS PRIMUS INTER PARES odbyło się 22 września 2021 roku na gali finałowej Ogólnopolskiego Konkursu Młodych Innowatorów 2020/2021 połączonej z Olimpiadą Wiedzy Technicznej. Uroczystość miała miejsce w przepięknym Warszawskim Domu Technika NOT – zabytkowym budynku o neobarokowej i neorokokowej architekturze. Z rąk jury konkursu wyróżnienie dla Wiadomości Naftowych i Gazowniczych i ich wydawcy SITPNiG odebrał kolega Maciek Bednarek (na zdjęciu drugi z lewej).
Redaktor Naczelny
---