Witamy na stronie WNiG
Latest issue of Oil and Gas News:
Review of measurement methods for flow of hydrogen and hydrogen/natural gas mixtures
Hydrogen - the fuel of the future, however, by its physical properties brings challenges in process measuring. In this article, the author focuses on the verification of available methods for the flow of this lightest element and the identification of a method that can be considered a reference for this type of measurement. The author presents the physical properties of the medium, generating metrological problems for different measurement methods... dalej
CO2-EGS geothermal systems – EnerGizerS Project
CO2-EGS geothermal systems are unconventional geothermal systems (Enhanced Geothermal Systems; EGS) using carbon dioxide (CO2) as the operating fluid. These systems combine aspects of extracting clean and environmentally friendly energy from the Earth's interior along with sequestering carbon dioxide (Carbon Capture and Storage; CCS) originating from the combustion of fossil fuels. Due to the excellent thermodynamic properties of CO2 and the need to reduce its emissions to the atmosphere, EGS using CO2 (instead of water) as a working fluid has become a subject of interest for researchers around the world, including Poland. Within the EnerGizerS project: CO2-Enhanced Geothermal Systems for Climate Neutral Energy Supply, the Polish-Norwegian team of scientists is conducting research on the efficiency of CO2-EGS systems in partner countries... dalej
---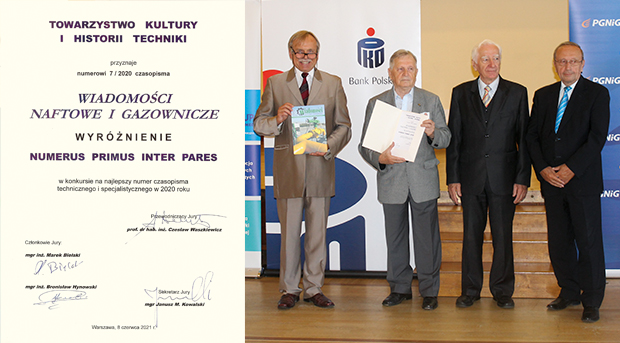 Od kilkudziesięciu lat, działające w ramach Federacji Stowarzyszeń Naukowo-Technicznych NOT Towarzystwo Kultury i Historii Techniki, jest organizatorem konkursu NUMERUS PRIMUS INTER PARES.
Z nieukrywaną satysfakcją (ale też z odrobiną miłego zaskoczenia) przyjęliśmy w Redakcji tegoroczny werdykt jury, obradującego pod kierunkiem prof. dr. hab. inż. Czesława Waszkiewicza – przyznającego numerowi 7/2020 Wiadomości Naftowych i Gazowniczych wyróżnienie NUMERUS PRIMUS INTER PARES na najlepszy numer czasopisma technicznego i specjalistycznego w 2020 roku.
Uroczyste wręczenie nagród i wyróżnień konkursu NUMERUS PRIMUS INTER PARES odbyło się 22 września 2021 roku na gali finałowej Ogólnopolskiego Konkursu Młodych Innowatorów 2020/2021 połączonej z Olimpiadą Wiedzy Technicznej. Uroczystość miała miejsce w przepięknym Warszawskim Domu Technika NOT – zabytkowym budynku o neobarokowej i neorokokowej architekturze. Z rąk jury konkursu wyróżnienie dla Wiadomości Naftowych i Gazowniczych i ich wydawcy SITPNiG odebrał kolega Maciek Bednarek (na zdjęciu drugi z lewej).
Redaktor Naczelny
---