Witamy na stronie WNiG
Latest issue of Oil and Gas News:
Downhole equipment of a deep borehole heat exchanger to extract heat from the Earth
The article presents the possibilities of adapting the existing negative, liquidated or exploited boreholes for obtaining heat from the rock mass. Considering the number of boreholes drilled in Poland, their geographical location, often in the urbanized area of communes, towns or cities or in a short distance from them, the idea of developing such boreholes and using the rock mass heat was born. The paper shows that, counting only from the 1980s, over 4,500 boreholes with a depth of more than 500 m have been drilled in Poland, including over 3,500 boreholes with a depth of over 1,000 m. Combination of cement and mechanical plugs, confirmed by appropriate tightness tests, creates conditions enabling the extraction of heat from the rock mass... dalej
Research on the effectiveness of surfactants for foaming reservoir waters
The article discusses the results of research on the evaluation of surfactants in the context of the possibility of using them to remove water from waterlogged gas wells. The tests were carried out in laboratory conditions on a test stand simulating a mining column. Foaming tests were performed for reservoir waters collected from the W-8, WG-1 and Ż-11 wells and foaming agents in solid form (BioCond 30, BioAcid 30/380, BioCond Plus 30/380). The physical and chemical analyzes of the reservoir waters showed that they are highly mineralized brines with various contents of organic and inorganic substances... dalej
---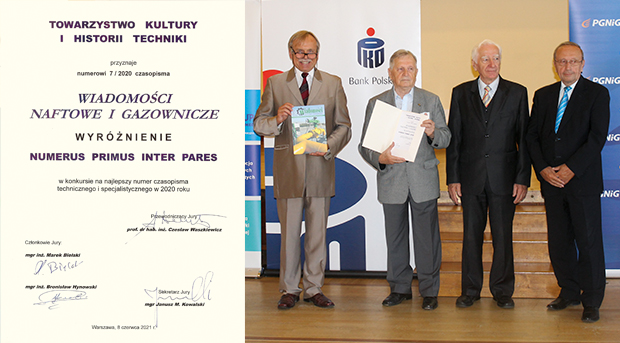 Od kilkudziesięciu lat, działające w ramach Federacji Stowarzyszeń Naukowo-Technicznych NOT Towarzystwo Kultury i Historii Techniki, jest organizatorem konkursu NUMERUS PRIMUS INTER PARES.
Z nieukrywaną satysfakcją (ale też z odrobiną miłego zaskoczenia) przyjęliśmy w Redakcji tegoroczny werdykt jury, obradującego pod kierunkiem prof. dr. hab. inż. Czesława Waszkiewicza – przyznającego numerowi 7/2020 Wiadomości Naftowych i Gazowniczych wyróżnienie NUMERUS PRIMUS INTER PARES na najlepszy numer czasopisma technicznego i specjalistycznego w 2020 roku.
Uroczyste wręczenie nagród i wyróżnień konkursu NUMERUS PRIMUS INTER PARES odbyło się 22 września 2021 roku na gali finałowej Ogólnopolskiego Konkursu Młodych Innowatorów 2020/2021 połączonej z Olimpiadą Wiedzy Technicznej. Uroczystość miała miejsce w przepięknym Warszawskim Domu Technika NOT – zabytkowym budynku o neobarokowej i neorokokowej architekturze. Z rąk jury konkursu wyróżnienie dla Wiadomości Naftowych i Gazowniczych i ich wydawcy SITPNiG odebrał kolega Maciek Bednarek (na zdjęciu drugi z lewej).
Redaktor Naczelny
---