Witamy na stronie WNiG
Latest issue of Oil and Gas News:
Investigations of thermal parameters of rocks for geothermal studies
The article is an overview of investigations of the rock's thermal parameters at the Oil and Gas Institute - National Research Institute in Krakow. Laboratory studies of parameters such as thermal conductivity and radiogenic heat are described. Next, the methods of the thermal conductivity estimation based on other laboratory and geophysical data are introduced. Finally the analysis of temperature data, both continuous thermal measurements and single temperature recordings is presented... dalej
Research of synergy between natural gas storage and CO2 geological storage - AGaStor project
Carbon geological storage is considered to be the most viable option for the storage of the large CO2 quantities needed to reduce global warming and related climate change effectively. The innovative, guiding concept of the AGaStor project is based on synergy between natural gas storage and CO2 storage process in a location near CO2 emission source. The main objective of the project is to facilitate the implementation of advanced Underground Gas Storage (UGS) using dynamic support of Carbon Dioxide Cushion (CDC) in saline aquifers. A key innovation will be development of new & safe technology for CO2 storage as a cushion in energy gas storage build in aquifers. Combining CO2 storage with UGS can bring economic and technological advantages to the industry and allow it to reduce the amount of anthropogenic emissions of CO2. A key issue of the AGaStor project is knowledge exchange and enhanced cooperation between the Polish & Norwegian partners to determine the best technologies & application in the energy systems of partner countries... dalej
---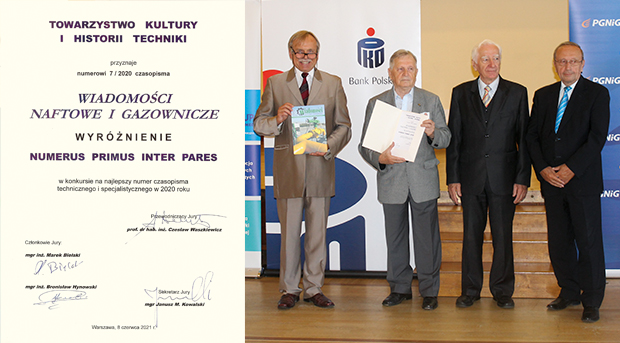 Od kilkudziesięciu lat, działające w ramach Federacji Stowarzyszeń Naukowo-Technicznych NOT Towarzystwo Kultury i Historii Techniki, jest organizatorem konkursu NUMERUS PRIMUS INTER PARES.
Z nieukrywaną satysfakcją (ale też z odrobiną miłego zaskoczenia) przyjęliśmy w Redakcji tegoroczny werdykt jury, obradującego pod kierunkiem prof. dr. hab. inż. Czesława Waszkiewicza – przyznającego numerowi 7/2020 Wiadomości Naftowych i Gazowniczych wyróżnienie NUMERUS PRIMUS INTER PARES na najlepszy numer czasopisma technicznego i specjalistycznego w 2020 roku.
Uroczyste wręczenie nagród i wyróżnień konkursu NUMERUS PRIMUS INTER PARES odbyło się 22 września 2021 roku na gali finałowej Ogólnopolskiego Konkursu Młodych Innowatorów 2020/2021 połączonej z Olimpiadą Wiedzy Technicznej. Uroczystość miała miejsce w przepięknym Warszawskim Domu Technika NOT – zabytkowym budynku o neobarokowej i neorokokowej architekturze. Z rąk jury konkursu wyróżnienie dla Wiadomości Naftowych i Gazowniczych i ich wydawcy SITPNiG odebrał kolega Maciek Bednarek (na zdjęciu drugi z lewej).
Redaktor Naczelny
---